---
By Philippe LutzIMarch 15, 2022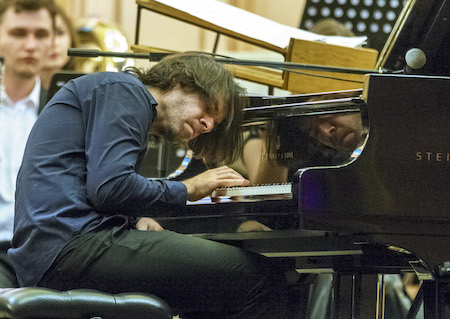 In June 2017, Vadim Neselovskyi performed a concert at the Soviet-era Mettalurgov Palace of Culture in Mariupol, Ukraine, a strategic port city on the frontline of the conflict with Russia since 2014. The audience consisted of a few hundred Ukrainian soldiers, and Neselovskyi, a passionate artist who loves piano complexity, concerned that his music will not appeal to young recruits brought up on simpler dishes. But with bombs dropping in the background – and strong emotions – it literally struck a chord.
"There were tears," he recalled in a phone interview from his mother's home in Dortmund, Germany.
The tears have only multiplied in recent days. On February 24, Russia dramatically stepped up its military assault across Ukraine, including Mariupol, where on March 9 it bombed a children's hospital. The act was widely condemned as a crime in a war that has changed the lives of most people with ties to Ukraine, especially Ukrainian-born Neselovskyi.
"It's before and after," he said.
Five days before the interview, Neselovskyi could be found sitting in one of two chairs in his comfortable, cramped Manhattan studio. Welcoming a visiting writer with Old World courtesy, he seemed both lively and slightly distracted, both willing to discuss the new pressures on his life and concerned about those pressures.
For starters, he said, he started donating some of the proceeds from his concerts to charities that benefit Ukrainians. These concerts became more numerous because demand increased for performances of his Premonitory Piano Suite Odessaa work inspired by his memories of growing up in this now threatened Ukrainian port city.
His relationship with the students has also changed, becoming more intimate even as some confusion sets in. At Berklee College of Music, where he is an associate professor, young musicians regularly greet him with empathetic hugs and slightly bewildered looks – the latter signifying a realization, he said, that their generation might have to consider the threat of a nuclear war.
The change in his work with students extends to those abroad. In the days leading up to the start of the current bombing campaign, he was preparing to address contestants in the second annual International Music Bridge competition, a Ukraine-based online event for which he is a judge. He also planned to initiate exchanges between Ukrainian and German jazz students. All of this has been put on hold.
Neselovskyi himself was a student at the Odessa Conservatory when, as a 17-year-old Jewish refugee, he left the remnants of Soviet Ukraine for Germany. Now 44 years old, holder of a German passport and an American green card, he is sensitive to the ironies of a European war of the 21st century, starting with his immediate environment. Living on the Upper West Side amid the abundance of the musicianship – MIDI keyboards, melodica, upright piano, acoustic guitar, random musical gadgets – he discovers that it's his phone that holds his attention.
Well-connected in Europe, Neselovskyi used this phone to help the Ukrainian music community during this struggle. As he prepared to fly to Germany for six concerts this month, he was busily arranging the transport of medical supplies from Germany through Poland, where his musician contacts would transfer them to the other side of the border to Ukrainian soldiers. Neselovskyi proudly shows off an Instagram post of his nephew, Igor Neselovskyi – who was recruited to help – smiling broadly in front of a car carrying supplies bound for Ukraine.
Neselovskyi is also part of an informal network that tries to help Ukrainian musicians find refuge outside the country. Prominent conductor Natalia Ponomarchuk, a champion of Neselovskyi music, had been 'on the run', he said, adding that she had taken shelter from the bombs with her elderly mother before leaving Ukraine for Poland, where she planned to meet a bassist friend and drive to Germany.
Ponomarchuk, who was the conductor of the 2017 Mariupol Concert, can be seen in a YouTube video conducting Neselovskyi as a soloist with the Kyiv Chamber Orchestra during a 2019 performance of his elegiac piece "Last Snow". The piece, built on delicately executed melodic leaps that fall over the ears with the kind of evanescence suggested by its title, has proven to be a powerful discussion of the power of memory in various versions – from the duet (with Russian horn player Arkady Shilkloper) on the quintet (with vibraphonist Gary Burton).
But the 2019 performance, held at the National Philharmonic Hall in Kyiv with an orchestration by Neselovskyi, now looks the most convincing. His opinion of groats — the Russian word for sadness — has acquired a new immediacy as the orchestra members are reduced to playing in the kyiv metro at night. These subways have become de facto bomb shelters. "Grust" just so happens to be the title of the piece that won Neselovskyi in 2010 at the Thelonious Monk Institute's International Jazz Composers Competition.
For all the groats enveloping Ukraine, Neselovskyi's most personal preoccupation is reserved for Odessa, his beloved hometown on the Black Sea. Neselovskyi, who was admitted to his famous conservatory at 15 and lived when jazz CDs were black market merchandise there, was in constant contact with friends as they fortified the town with sandbags in anticipation of a Russian attack.
"They are more united than ever," he said. "At the same time, there is a parting look in their eyes."
This gaze is suggested by the musical images conveyed in Odessa. The suite's central movement, "Potemkin Stairs," delivers cascading swirls of notes that stumble to evoke the desperation depicted in Sergei Eisenstein's 1915 propaganda film Battleship Potemkin. In it, Tsarist soldiers are chasing the proletariat down Odessa's monumental outer stairway — alongside, Neselovskyi said, the Russian soldiers now chasing Ukrainians into bomb shelters and out of the country. The movement, the third of 10 in the suite, presents Neselovskyi's compositional acumen and improvisational agility at their most intoxicating level.
"October 1941," meanwhile, offers those most devastating attributes. The first part of a three-part Jewish-themed suite within a sequel, it finds Neselovskyi mounting a thunderous attack on the bottom of the keyboard – an attack that is both reminiscent of the massacre of Jews in World War II in Ukraine on the title date and the March 1 Russian bombing of Europe's largest mass grave for Holocaust victims, Babyn Yar, in Kyiv.
"It's the darkest music I've ever written," Neselovskyi said.
Neselovskyi was quick to point out that the sequel also lets in light, if in measured doses. Its epilogue, "The Renaissance of Odessa", is a meditative vision of the revival of the city in the 21st century. The movement, according to a draft of its liner notes, is "dedicated to all the heroes who gave their lives to protect our freedom and independence."
"There is still hope," he said.
Both sides of the story will have a musical broadcast. After the March dates in Germany, Neselovskyi will perform excerpts from Odessa at an April 1 benefit party hosted by John Zorn at Brooklyn Space Roulette. On April 30, he will perform the entire suite twice at Sendesaal, Bremen, Germany, where in August 2020 he recorded it when the venue officially reopened after the pandemic lockdown. He indicated that the release of a CD on Sunnyside, initially scheduled for September, could be brought forward.
The day before the Sendesaal concerts, a roundtable discussing the growth of the Ukrainian jazz scene was planned with the Ukrainian Cultural Institute. The panel was still up in the air in mid-March as war threatened to overtake some of its attendees. But whatever the fate of the panel, Neselovskyi expressed cautious confidence that his theme would remain relevant after the end of hostilities.
"We hope everyone survives," he said, "and the scene is restored and flourishes." comics
---
"To me, Roy Hargrove was one of the most dedicated stewards of this music, the black American tradition," said trumpeter Theo Croker, who considered Hargrove a mentor.

Don Byron fires no shots while passing the "test".

"I always wanted the oldies to be there so I could make sure I was going in the right direction," Kenny Garrett said of his relationship with the jazz legends.

The cooks are, left to right, George Cables, Billy Hart, Donald Harrison, Eddie Henderson, David Weiss, Billy Harper and Cecil McBee.

Tierney Sutton, right, and Serge Merlaud.