French teacher Michelle McRay and social studies teacher Melissa Weber coach seventh grade football at Monticello Trails Middle School
MIll Valley teachers Melissa Weber and Michelle McRay both coach the Grade 7 boys football team at Monticello Trails Middle School. Both have overcome gender barriers and coach in a male-dominated sport.
Weber teaches social studies and has always loved the sport of soccer, this is his first coaching experience in the sport.

"Monticello is right next door and [social studies teacher Cory Wurtz] gave me the idea to coach [at Monticello]. He's persuasive, so I can always ask his advice," Weber said.
Although this is Weber's first football coaching experience, she has coached other sports before. She coached cross-country in her former school district.
McRay teaches French and trains the girls in wrestling. Like Weber, this is also McRay's first time coaching the sport.
"[Mill Valley football coach Joel Applebee] told me about work. He asked me if it was something I would be interested in and I just thought about it. In fact, I was recommended by [principal Dr. Gail Holder] for the job," McRay said.
Both coaches are excited and constantly learning. They have unique coaching styles that they implement in their practices and noticed by players, like 7th grade football player Lucas Pennel.
"I guess they treat us more like humans than the male coaches," Pennel said.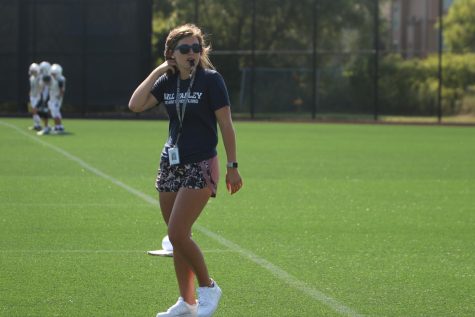 "I am less technical with [my team]. I'm more concerned about their behaviors, and since I'm still learning a lot, I would say I'm more concerned about their behavior," McRay said.
Weber and McRay have overcome the gender barrier and believe that having a female coaching perspective is just as important as a male perspective.
"I think having a female perspective when coaching shows men and women that anyone can do this job. The development of young student athletes and their training should not be separated by gender and I think people are finally starting to realize how much women can contribute to the development of athletes," said McRay.
Weber and McRay both started coaching football around the same time and enjoy living it together.
"[Coaching with McRay] it makes me feel better knowing that we are equals and on the same page so that we can ask questions," Weber said.
Weber and McRay both learned important lessons as football coaches.
"All aspects of growth and development and trying to build successful young people, global citizens or whatever you want to call it. That's the hardest part," McRay said.
(Visited 12 times, 7 visits today)