Icelandic First Lady Eliza Reid will talk about her book Secrets Of The Sprakkar.
Reviews and recommendations are unbiased and products are independently selected. Postmedia may earn an affiliate commission on purchases made through links on this page.
Content of the article
There's an Icelandic word – "sprakkar" – which means exceptional women, and it's these women who are at the heart of Eliza Reid's book, Secrets Of The Sprakkar: Iceland's Extraordinary Women and How They Change the World.
Content of the article
Reid, who grew up on a small farm in Ottawa, came here as part of the Vancouver Writers' Festival which ends Oct. 23. Reid is hosting two events today and one tomorrow.
Content of the article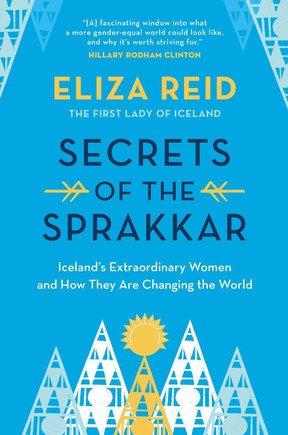 Postmedia caught up with Reid, writer and co-founder of the annual Icelandic Writers' Retreat.
Q: Iceland has topped the World Economic Forum's Global Gender Equality Index for 13 years now. Why?
A: Some of the main reasons are the high education rate of women, the high participation in the labor market and the good representation in elective offices (47.5% of deputies).
Q: You interviewed a wide range of Icelandic women for your book. How did you choose your subjects?
A: I wanted to choose topics that appealed to a lot of people, women who might not be the "obvious" choices, but who have interesting stories to tell. So you won't read interviews with the world's first female president or singer Björk, but you'll meet a farmer who tried his hand at modeling, a trans rights activist, a group of women who go swimming in the North Atlantic every week, and a sex counselor who also teaches knitting.
Content of the article
Q: Was there a common thread in their stories?
A: I've tried to profile a wide range of individuals, but if there's a common thread, I'd say they're all living authentic lives and trying to achieve their dreams. Many were surprised that I wanted to interview them for the book. But what I mean is that we all have stories to tell, experiences to share and an influence on others around us. I hope the stories of these women will provide insight into life in Iceland, but also be relevant to people around the world.
Q: What makes being a woman in Iceland so great?
A: There is a lot of societal support for women, like heavily subsidized childcare and paid parental leave for both parents, as well as a general recognition that we should work to increase equality, because it will benefit to everyone in society. We also know that even though we are number 1, we still have a lot of work to do and we must all remain vigilant.
Content of the article
Q: You used your platform to bring the best of your nation to the world. What can the rest of us learn from Iceland?
A: Iceland is not only the most equal country in the world, but it is also one of the most peaceful and one of the happiest. We have one of the longest life expectancies. These things go together. So the rest of the world can learn that working towards greater equality will make society better for everyone who lives in it. But I hope people will also understand that equality is a choice and that gender equality will not happen by itself. It takes tireless effort and vigilance on the part of people of all genders.
Q: How do you define your role as First Lady of Iceland?
A: It is an honor and a privilege to serve my adopted country (she moved there in 2003) in this way, and I try to use my voice to advocate for important issues, such as gender equality. I'm also an immigrant, so my voice (in Icelandic) has an accent, and I think it's important to use my accented voice so people know that we need to hear a wide range of people across a wide range of Questions.
Content of the article
I also try to confuse any stereotypes that may exist about what the wife of a male head of state should do (or not do). I'm very proud to be my husband's wife, but that's not my main characteristic. I work hard to be recognized for the individual that I am, no matter who I'm married to.
Q: You are hosting a Vancouver Writers Festival event called The State of Women. I'm curious, outside of your country things don't look so good – the protests in Iran, the Dobbs decision in America, for example. So, what do you think of the international situation of women?
A: We have a long way to go. The international situation of women shows us that we must remain vigilant, not be satisfied with where we are, continue to fight, ensure that those of us who are in privileged situations can use these situations to make the light and sharing the proverbial mic with those whose stories need to be shared. But the women of the world also give us hope. In Iran, for example, it is women who stand up and speak out, using their voices. I have immense admiration for the tenacity and courage of women, from Iran to Afghanistan and so many other countries, who speak out at enormous personal cost and risk. We all need to support these women and let them know we hear them and stand by them.
Content of the article
Q: How do you feel about being called a role model?
A: I find it flattering and a little strange. But I also see it as something to aspire to. We are all role models in one way or another, so I want to be as positive a role model as possible.
Q: You co-founded the Iceland Writers Retreat in 2014. What was the impetus behind that?
A: We wanted to create an event that would bring together people from all over the world who love to write. You don't need to "audition" to attend, just enjoy the written word, whether you work as an author or just like to tinker with a journal you never want to publish. Reykjavík is a UNESCO City of Literature, so we also have a number of events that introduce people to Iceland's rich literary heritage. This is a trip for book lovers. We even have a new concurrent event called the Iceland Readers' Retreat, which is for people who want to meet authors, but love to read more than they love to write.
Content of the article
Q: What are you reading right now?
A: I listen to a biography of Catherine the Great and finish Antoine Wilson's Mouth to Mouth on Giller's long list. Next comes an advance copy of the Icelandic novel The Fires, by Sigríður Hagalín Björnsdóttir (trans. Larissa Kyzer), and the Shaughnessy Cohen Prize-winning book, China Unbound, by Joanna Chiu.
Q: One of the other VWF events you host is the Good Reids with your brother, international bestselling author Iain Reid. Your other brother worked as a contractor for NASA and his company, Mission Control Space Services, sells technology to NASA. So what was in the water on that little Ontario farm where you grew up?
A: It was actually water from a well, unique to our house, so who knows. But seriously, we were very lucky to be raised in a house full of laughter and stories where we were always encouraged to do what we wanted to do, although I don't think any of us would be expected to be where we ended.